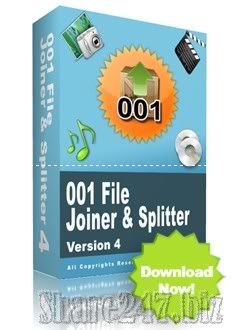 Have you found yourself with all those files ending with .001, .002, .003, etc. and don't know what to do with them?

What are they, you ask? Those files are pieces from a larger file that has been split apart. With our software, 001 File Joiner & Splitter, you can join those files right back together! Or, you can split your own files with the click of a button! We proudly introduce 001 File Joiner & Splitter. 001 File Joiner & Splitter allows you to join and split files of any size and any type. Split files can then be rejoined without the use of this software. The split files created have the extensions of '.001?,'.002?,'.003?, etc.

Features:

* Join or Split Any File Type
* 001 File Joiner & Splitter supports all the popular file formats: AVI, MPEG, MP3, EXE, or any other type.
* No Maximum Size Limits
* 001 File Joiner & Splitter breaks the 2GB size limit found in other software. We have tested our software with files over 50GB in size with no problems!
* Join Files Back Together Without our Software Installed
* This feature makes split files much more portable. Join files back on computers without our software!
* Convenient Splitting Methods
* Split files by either desired file size or by number of split files.
* Friendly & Easy to Use Interface
* Version 4.0 comes with a beautiful new user interface which makes joining and splitting that much easier.
* Automatically associates with .001 files
* Simply double-click and joining begins. There is also an option to delete source files once joining completes.
* Full Install/Un-Install Support
* Easily install or remove our software.

Download Link :

Code


http://hotfile.com/dl/26595325/b668acc/001_File_Joiner_and_Splitter_v4.0.5.0_prtbl.rar.html




or


Code


http://uploading.com/files/8896c76d/001_File_Joiner_and_Splitter_v4.0.5.0_prtbl.rar/


Please Thank The Posters.