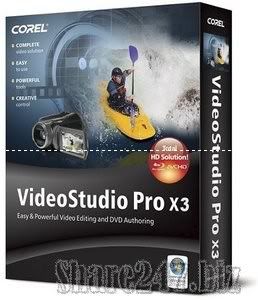 Corel VideoStudio Pro X3 13.00 | 610 Mb

VideoStudio Pro gives you the processing power you need to spend less time waiting and more time creating. Professional video-editing software with end-to-end HD support, it offers a huge palette of features, effects and options that indulge the imagination. Get ready to create your best-ever movies! Even upload directly to YouTube? to let the whole world in on the fun.
VideoStudio Pro X3 kicks the movie making process into high gear, giving you the ultimate playground for creativity. Your complete HD video-editing program, it gives you a rapid head start with professionally designed templates, real-time, studio-quality effects, polished titles and smooth transitions. Super-charge your workflow with GPU acceleration and multi-core Intel? CPU support for faster editing and rendering. Quickly assemble video clips in new Express Edit mode or go deep with advanced video-editing tools.
Then share your videos on YouTube, Facebook?, Vimeo?, DVD, AVCHD? and Blu-ray discs?, iPod?, PSP? and more.

? Complete HD workflow ? import, edit, burn and share standard or HD video
? GPU acceleration ? edit and render twice as fast, especially with HD video
? Professional content ? get $500 US worth of studio-quality RevoStock templates
? Express movie making ? create movies in minutes, then fine-tune with advanced editing tools
? Real-time effects ? work fast with live previews of special effects like RotoSketch
? Blu-ray authoring & burning ? author with Hollywood-style DVD menus
? Online sharing ? send directly to YouTube, Vimeo, Facebook and mobile device

More speed across the board
Don't get tripped up by technical delays?create, edit, render and share twice as fast with this new version!
? New! Launcher. VideoStudio Pro X3 gets you right to the task at hand with the new Launcher. From one convenient location, you can start express editing, more advanced video editing, the DV-to-DVD wizard, or DVD Movie Factory? 2010 for DVD and Blu-ray Disc? authoring and burning.
? New! GPU and CPU Acceleration. Dramatically speed up your entire movie making process with NVIDIA? CUDA? and Intel? Core? i7 optimization.
? New! VideoStudio Express. Make quick edits, or combine video clips, photos, music and voiceover to create a professional-looking video project in minutes.

Studio-quality templates and effects
Get a creative head start with professionally designed templates from RevoStock?, polished titles, and studio-quality audio and video effects.
? New! Movie Templates. VideoStudio Pro X3 offers the best-quality movie templates in its class, including over $500 US worth of templates from RevoStock. Turn video clips into polished movies in an instant, with Hollywood-style titles, transitions, pans and zooms, credits and more.
? New! RotoSketch. Transform videos, video frames and photos into animated clips and hand-sketched drawings in a few clicks. By simply applying a filter, you can turn media assets into realistic animations or digital art.
? Enhanced! Title Effects. Create stunning titles in seconds by adding multiple title tracks and effects, then customize your work to get the perfect look.

End-to-end HD video production
Import, edit and share HD video.
? Enhanced! HD Capture and Import. Import HD video from anywhere, including HDV?, AVCHD?, Blu-ray Disc? and JVC? HD camcorders. Import standard video from DV and analog camcorders, and Web, USB and still image cameras.
? Enhanced! Blu-ray Authoring and Burning. Create your own Blu-ray titles, and author menus for DVDs and Blu-ray Discs, including BD-J menus.
? New! H.264 Compression. Get incredible HD quality in smaller files by creating HD MPEG-4 files with the H.264 codec. This makes it easier to share videos on a variety of devices ranging from low-powered cell phones to high-powered Blu-ray devices.

Unlimited video sharing
Upload, burn, copy and share any way you want.
? Enhanced! Online sharing. Share your movies with your own personal network or with the entire world in a few simple clicks. Upload your videos and slideshows directly to YouTube?, Vimeo?, Facebook? and Flickr?.
? Enhanced! Format Flexibility. Save your movies to AVI, FLV, MP3 encode, AC3 5.1, AVCHD, HD MPEG-2, MPEG-4 and more.
? Enhanced! Copy, Convert and Burn. Copy movies to your device of choice, including iPod?, iPhone?, MP3 players (USB) and PlayStation Portable? (PSP). Burn CDs, DVDs, Blu-ray and AVCHD discs. You can even burn HD video to standard DVD media to play on a DVD or Blu-ray player.

System Requirements

* Microsoft? Windows? 7, Windows Vista? or Windows? XP with latest service packs installed (32-bit or 64-bit editions)
* Intel? Core? Duo 1.83 GHz, AMD Dual-Core 2.0 GHz or higher recommended
* 1 GB RAM (2 GB or higher recommended)
* 128 MB VGA VRAM or higher (256 MB or higher recommended)
* 3 GB of free hard drive space
* Minimum display resolution: 1024 x 768
* Windows-compatible sound card
* Windows-compatible DVD-ROM drive for installation
* Recordable DVD required for creating DVDs
* Recordable Blu-ray? drive required for creating Blu-ray? discs
* Internet connection required for online features

Input/Output Device Support:

* 1394 FireWire cards for use with DV/D8/HDV? camcorders
* Support for OHCI Compliant IEEE-1394
* USB Video Class (UVC) DV cameras
* Analog capture cards for analog camcorders (VFW WDM support for Windows XP and Broadcast Driver Architecture support for Windows Vista/Windows 7)
* Analog and Digital TV capture devices (Broadcast Driver Architecture support)
* USB capture devices: Web cameras and disc/memory/hard drive camcorders
* AVCHD?, AVCHD? Lite and BD camcorders
* DV, HDV? and DVD camcorders
* Flip Video camcorders
* Digital still cameras
* Windows-compatible Blu-ray, DVD-R/RW, DVD+R/RW, DVD-RAM or CD-R/RW drive
* Apple? iPhone?, iPod? Classic with video, iPod? Touch, Sony? PSP?, Pocket PC, Smartphones

Input Format Support:

* Video: AVI, MPEG-1, MPEG-2, AVCHD, MPEG-4, H.264, BDMV, DV, HDV?, DivX?, QuickTime?, RealVideo?, Windows Media? Format, MOD (JVC? MOD File Format), M2TS, M2T, TOD, 3GPP, 3GPP2
* Audio: Dolby? Digital Stereo, Dolby? Digital 5.1, MP3, MPA, WAV, QuickTime, Windows Media Audio
* Images: BMP, CLP, CUR, EPS, FAX, FPX, GIF, ICO, IFF, IMG, J2K, JP2, JPC, JPG, PCD, PCT, PCX, PIC, PNG, PSD, PSPImage, PXR, RAS, RAW, SCT, SHG, TGA, TIF, UFO, UFP, WMF
* Disc: DVD, Video CD (VCD), Super Video CD (SVCD)

Output Format Support:

* Video: AVI, MPEG-1, MPEG-2, AVCHD, MPEG-4, H.264, BDMV, HDV, QuickTime, RealVideo, Windows Media Format, 3GPP, 3GPP2, FLV
* Audio: Dolby Digital Stereo, Dolby Digital 5.1, MPA, WAV, QuickTime, Windows Media Audio, Ogg Vorbis
* Images: BMP, JPG
* Media: CD-R/RW, DVD-R/RW, DVD+R/RW, DVD-R Dual Layer, DVD+R Double Layer, BD-R/RE

Download Link :

Code


http://hotfile.com/dl/26595516/23e7a0d/Corel_VideoStudio_Pro_X3_13.00.part1.rar.html

http://hotfile.com/dl/26595534/0406ca3/Corel_VideoStudio_Pro_X3_13.00.part2.rar.html

http://hotfile.com/dl/26595577/2a74b90/Corel_VideoStudio_Pro_X3_13.00.part3.rar.html

http://hotfile.com/dl/26595615/7d30108/Corel_VideoStudio_Pro_X3_13.00.part4.rar.html

http://hotfile.com/dl/26595640/beb08f3/Corel_VideoStudio_Pro_X3_13.00.part5.rar.html

http://hotfile.com/dl/26595648/b01e006/Corel_VideoStudio_Pro_X3_13.00.part6.rar.html

http://hotfile.com/dl/26595681/b840bfe/Corel_VideoStudio_Pro_X3_13.00.part7.rar.html




or


Code


http://uploading.com/files/a57m8ad1/Corel_VideoStudio_Pro_X3_13.00.part1.rar/

http://uploading.com/files/1ff25d29/Corel_VideoStudio_Pro_X3_13.00.part2.rar/

http://uploading.com/files/6df584fb/Corel_VideoStudio_Pro_X3_13.00.part3.rar/

http://uploading.com/files/55a8mffa/Corel_VideoStudio_Pro_X3_13.00.part4.rar/

http://uploading.com/files/1a462789/Corel_VideoStudio_Pro_X3_13.00.part5.rar/

http://uploading.com/files/3ace5a62/Corel_VideoStudio_Pro_X3_13.00.part6.rar/

http://uploading.com/files/727am8eb/Corel_VideoStudio_Pro_X3_13.00.part7.rar/


Please Thank The Posters.