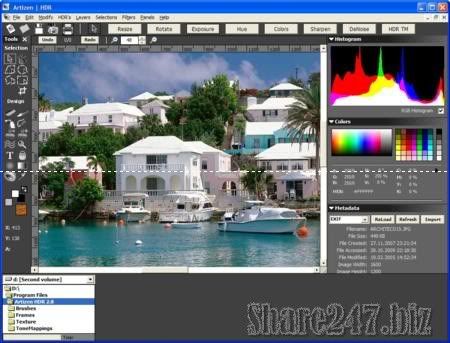 Artizen HDR 2.8.6 Portable | 13.5 Mb

Artizen HDR is an image editor for the novice to mid range user. Easily Edit, Print, Share and Organize all of your image files by using Artizen's extensive set of powerful features that are made easy to use with a wide selection of Wizards, 20+ Tutorials and hundreds of Context Based Help Tips.
Some of the most common features users have at their disposal are Import and Export in 25+ File Formats, Scan Images, Import Digital Images, Color Corrections (ex. Web Safe Colors), Rotating, Resizing, (Optionally Unlimited) Undo/Redo, Editable Vector Shapes, Powerful Masking Tools, 200+ Layers Support, 60+ Image Retouching Tools, Timed/Defined Screen Capturing (optional AutoSave), Advanced Printing Capabilities, Browse and Manage Image Libraries using the Image Viewer, Add Text Layers, Add Text Effects, Spell Checker in any language, Add Boarders, Add Pictures Frames, Hundreds of Filters and Effects, 4 Free Plugins, and a Built-in Scripting IDE to make custom filters that you can save and share.

Color Technology
Artizen HDR introduces our new Color Matching System technology. This new technology is a completely new way of working with Colors that is similar to other color technologies but is more accurate and flexible. The new Color Matching System is used in our White, Hue and Color Balance filters as well as in our HDR Tone Mapping filters. This addition to our existing set of color tools makes Artizen an essential and the only tool photographers would need to produce virtually any color effect they desire.

Camera RAW Support
Artizen HDR supports +14 digital raw files formats and over 230 digital cameras. RAW conversion is completely integrated into the core of Artizen, making workflows faster and provides Photographers with all the same tools that would be used with JPG editing, but work directly with the RAW data.
New Camera Support in 2.8
• Canon (EOS 7D, EOS 500D, PowerShot A530, PowerShot G11, PowerShot A470, PowerShot SX1 IS, PowerShot SX110 IS)
• Kodak EasyShare (Z980, Z1015)
• Motorola PIXL
• Nikon (D200, D3000, D3X, D5000)
• Olympus (E-30, E-450, E-620, E-P1)
• PENTAX (K-m, K-7)
• Panasonic (DMC-FZ35, DMC-GF1, DMC-GH1)
• Sony (DSLR-A230, DSLR-A330, DSLR-A380, DSLR-A850)

Panoramic
Panoramic photography has evolved with HDR technology and go hand in hand with Image Based Light (IBL). As result the latest version of Artizen introduces support for 3 panoramic environment maps (Fisheye, Latitude Longitude and Mirror Ball) with the use of 4 panoramic conversion methods. These 3 panoramic environment maps cover the most common methods used to capture 360×360 degree images.

Leaner and Faster
In addition to extending the usage of SSE and Multi Processor technology, every single filter and process under went a review to ensure that it was optimized as much as possible. As a result, some functions are more than 500% faster than previous versions with an average performance increase of 200% across the board.

Image Resizing Technology
Artizen HDR now has 6 different scaling methods with each specializing in a different area of scaling technology. Nearest Neighbor is excellent at scaling text based images, Bicubic BC-spline is used to scale images up with smooth results, Bicubic Sharpen is the same as Bicubic BC-spline but is designed for scaling down images to make previews, Lanczos is much slower than Bicubic but produces more accurate results, Lanczos Sharpen is similar to Lanczos but is optimized for down scaling and lastly Lanczos Smart can be used to up or down scaling images with less noise.

High Dynamic Range Technology
The entire workflow for working with HDR files has been completely overhauled for faster performance, easier use and the addition of several new features. During the HDR creation process, files are loaded and created faster and setting preferences are now saved for reuse. Artizen HDR has 2 automatic algorithms and 1 manual image alignment methods to ensure that regardless of the shooting conditions Artizen will be able to align any photo set. In addition, this update introduces our new Ghost Removal technology, which helps to remove moving objects, trees and people in photo sets. The final step in the HDR workflow is tone mapping and Artizen HDR optimized all 3 of our tone mapping operators as well as added the ability to save settings with final file output, which can then be reloaded at anytime. All tone mapping operators fully utilize the new Color Matching technology to speed up workflow and reduce the amount of post processing filters that need to be used.

Small Planets
A spin off of the Panoramic functionality, Small Planets are a fun way of turning your panoramic photos into Little worlds of their own.

Features List

File Format Support
- ARTI, ATX, BMP, DIB, OpenEXR, EMF, GIF, HDR, ICB, ICO, JPG, JFIF, JPE, JPEG, PBM, PCD, PCX, PFM, PGM, PNG, PPM, PSD, PSP, RLE, SGI, TGA, TIF, TIFF, VDA, VST, WBMP and WMF

Digital Camera RAW File Format Support
-ARW, CR2, CRW, DCR, KDC, DNG, ERF, MRW, NEF, ORF, PEF, RAF, RAW and SRF

Transformation Filters
- Rotation
- Scaling
- Skew
- Flip
- Mirror

Panoramic (NEW)
- Panoramic > Fisheye (Small Planet)
- Fisheye > Panoramic
- Panoramic > Mirror Ball
- Mirror Ball > Panoramic

Misc. Filters
- Curves
- Replace Color
- Add Vignette
- Bilateral Filter
- Gaussian Blur
- Zoom/Radial/Motion Blur
- Levels
- 7 Edge Filters
- 3 Metallic Filters
- 5 Distortion Filters
- Aged Photo
- much much more…

Sharpening Filters
- Unsharpen Mask
- – Modes RGB and Luminosity

Orton Filter
- 5 Modes
- Brightness
- Hue
- Saturation
- Opacity
- X and Y Radius
- Sharpness

DeNoise Filters
- Bilateral Noise Reduction Filter
- Noise Reduction Filter

HDR Tone Mapping Operators
- Display
- Dramatic
- Natural

High Dynamic Range (HDR)
- Creation using 1 of 2 Auto Alignment methods
- Creation with Manual Alignment
- Ghost Removal
- Batch Processing
- Support for Processing Images over 8000×8000 pixels (system specs dependent)

Hue Balance Filter (NEW)
- Hue Selection
- Hue Brightness
- Hue Threshold
- RGB Adjustments
- Invert Option

Color Balance Filter (UPDATE)
- Temperature
- Hue
- Linear and Non-Linear Vibrancy
- Luminosity
- Linear and Non-Linear RGB Channels
- RGBCYM Hue Adjustments
- Grayscale
- Invert

White Balance Filter
- Temperature
- Auto White Balance
- Red, Green and Blue Channel Controls.

Exposure Filter
- Brightness
- fstop
- Reflection
- Xposure
- Contrast (Standard or Divergence)
- Highlights
- Shadows
- Gamma

Image Scaling Methods
- Nearest Neighbor
- Bicubic BC-spline
- Bicubic Sharpen
- Lanczos
- Lanczos Sharpen
- Lanczos Smart

System Requirements:

Minimum
- Windows 2000 SP3; Server 2003; XP SP1, Vista SP1, 7
- No 64bit OS support.
- 512 MB RAM
- 500 MB of HDD Space
- 1024×768 Display Size
- Pentium 4 and Higher (SSE2 support required)
- AMD Athlon XP (model 8 and up excluding Socket A) SSE2 support

Recommended
- Windows 2000 SP4; Server 2003; XP SP3, Vista SP1, 7
- No 64bit OS support.
- 4 GB MB RAM
- 1.5 GB of HDD Space
- 1400×1050 Display Size
- Pentium Dual Core2 Duo

Download Link :

Code


http://hotfile.com/dl/26845884/638c3b4/4UFFArtizen_HDR_2.8.6_Portable_by_LP.rar.html




or


Code


http://uploading.com/files/e834md19/4UFFArtizen_HDR_2.8.6_Portable_by_LP.rar/


Please Thank The Posters.