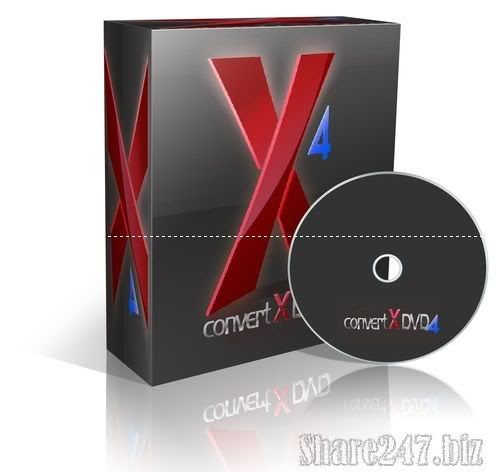 Convert and watch a Divx or a AVI on a regular home DVD Player

ConvertXtoDVD (formerly DivxToDVD) is a software to convert and burn your videos to DVD. With ConvertXtoDVD and in a few clicks you can backup your movies to DVD playable on any home DVD player.

ConvertXtoDVD supports most popular format such Xvid, MOV, VOB, Mpeg, Mpeg4, MP4, AVI, WMV, DV and stream formats. ConvertXtoDVD converts your files into a compliant DVD Video set of files and burns it on a DVD media.

The aspect ratio can be automatically selected or forced to a specific format. The program works for NTSC and PAL video formats and creates chapters automatically. Multiple audio tracks are supported. Version 2 uses a completely rewritten interface with subtitles support and a lot of new settings.

VSO ConvertXtoDVD is neither affiliated with, nor using technology from Divx Networks!

Here are some key features of "ConvertXtoDVD":

· Supported video formats: DivX, Xvid, MPEG4, MOV, AVI, WMV, WMV HD, DV and more…
· Supported sources: existing files from digital camcorders, TV/Sat, capture cards
· Can merge up to 4 hours of material from several movies or episodes
· Supported audio formats: AC3, DTS, PCM, OGG, MP3, and more…
· Handles subtitles files (.SRT .SUB/IDX) with color and font selection, and supports tags (italic, bold)
· Video format choice: NTSC, PAL, or automatic and PULL-DOWN
· Picture output: Widescreen, Fullscreen, or automatic
· Create Automatic chapters or edit your owns
· Fast preview mode to check if the source is loaded correctly
· Save the DVD structure on hard drive or burn it to a blank DVD
· Reliable burn engine integrated (supports all DVD formats)
· Fast and quality encoder (typically less than 1 hour for converting 1 movie)
· Variable options and settings for advanced users
· Control of the conversion speed vs quality
· DVD Menu control (auto-start, loop etc)
· DVD Menu edition (background, fond, color)
· Customizable interface (themes, dockable windows)
· Multilingual support
· Optimized for Windows 2000 / XP / Vista / Windows 7

What's new in ConvertXtoDVD 4.0.9.322:
Improved interface:
· Implemented a merge feature directly from drag/drop, using the key
· Fixed issue when reloading settings
· 0003085: [Bug] Video processing failed to init on stream 0000001 error, I can't convert – resolved.
· 0003087: [Feature Request] Easy merge mode- resolved.
· 0003067: [Bug] v4.0.6.316 ßeta: Add a few files, then click Automatic / Add lots more files, no changes on the Advisor !- resolved.
· 0003084: [Feature Request] add info under preview window that subtitles are not visible during conversion- resolved.

What's new in ConvertXtoDVD 4.0.8.320:
· 0003083: [Suggestion] need to add a more precise message when client enters the wrong key into CX4- resolved.
· 0003082: [Bug] v4.0.7.318 access violation when deleting subtitle file in merge editor window- resolved.
· 0003081: [Crash] v4.0.7.318 error when merging files with subitltes / when subtitles are automatically loaded with video- resolved.
· 0003071: [Information] Updater in english for all languages- resolved.
· 0003077: [Bug] v4.0.7.318: Support for Video: all video type broken under XP os (REGRESSION)- resolved.

What's new in ConvertXtoDVD 4.0.7.318:
· 0003074: [Crash] ConvertX crash when starting- resolved.
· 0003072: [Bug] 316: Some wrong text in hintbox displayed for background Audio.- resolved.
· 0003069: [Suggestion] highlight words 'get a new key', so users click on link- resolved.
· 0003063: [Bug] v4.0.5.315a enter goldmember key and get "cannot focus a disabled or invisible window"- resolved.
· 0003073: [Bug] 316: Regression – Bug 3044 has returned.. Can not enter field for editing with mouse pointer.- resolved.
· 0003044: [Bug] 4.0.3.313: Regression, lost edit function at DVD menus labels sub-window (DVD menus tab)- resolved.
· use the latest innosetup version 5.3.6
· media stats option is off by default in the installation script.

Download Link :

Code


http://hotfile.com/dl/24921631/57c65bd/Share247.biz-VSO_ConvertXToDVD_4.0.9.322_Final.rar.html



or


Code


http://uploading.com/files/9236589d/Share247.biz-VSO%2BConvertXToDVD%2B4.0.9.322%2BFinal.rar/


Please Thank The Posters.